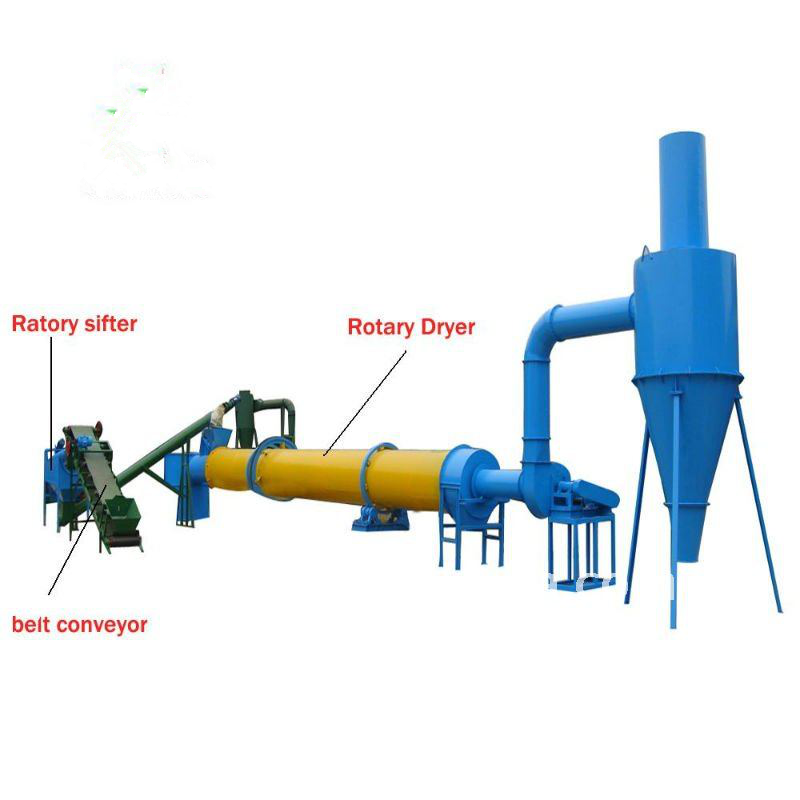 Introduction
Rotary type dryer shows the features of perfect drying effect, easy operation, high efficiency and easy control of drying. It takes advantage of the stability of roller and homogeneity of air. This equipment makes the combination of roller and pipes which increase the drying strength and reduce the manual power. This is the ideal equipment for drying raw materials with high humidity.
This machine is mainly composed of rotors, the feed plate, driving device, supporting device and sealing ring and other components.Drying machine is a horizontal tilt slightly into the cylinder, materials from high end to join, and the high temperature hot flue gas and material flow into the cylinder, with the rotation of the cylinder, the material due to the low gravity to run to the end.On the inner wall of the cylinder is equipped with copy board, and sprinkle with copy material, the contact surface is increased and the air flow of material, in order to improve the drying rate and promote the material.After drying the product from the bottom of the lower part.

The Feature
Large drying machine processing capacity, low fuel consumption, dry low cost.Drying machine has the characteristics of high temperature resistant, can use of materials at high speed, high temperature hot air drying.Extensible ability, design considering the production surplus, even a modest yield increase, also need not replace the equipment.Equipment structure of self-aligning type tug, tug with roller ring fit well, greatly reduces the wear and power consumption.Specially designed gear wheel structure, greatly reduce the thrust due to the tilt work level.Resistance to overload ability, cylinder smooth operation, high reliability.
Technical Parameter
Model
Power
Capacity
Moisture of raw material
Dimension
Weight
T620
7.5+3kw
500kg/h
<50%
15.6*1.2*3.3m
3T
T950
7.5+3kw
600-800kg/h
18*1.2*4.5m
3.5T
T1200
11+4kw
1000-1200kg/h
13.5*1.2*3.5m
4T
T1500
15+7.5kw
1200-1500kg/h
15*1.7*4.5m
5.5T


Package
The normal package is wooden box. If export to european countries,the wooden box will be fumigated.If container is too tigher,we will use pe film for packing or pack it according to customers special request.